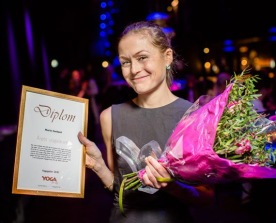 Maria Cerboni - Corpo By Cerboni

Maria Cerboni is the founder and owner of Corpo By Cerboni, the symbol and the movement system that ignites freedom and to love yourself and be the unique person you are. Hundreds of people have been practice Marias Yoga classes around the globe and people that never have tried YOGA before think is lovely to be abel to feel that they really have potential to do YOGA even if they didn´t think so before. Maria partners with LANGLEY TRAVEL making yoga available at hotels and resorts. She is the designer for the symbol and jewelry CORPO BY CERBONI that help people with depression, eating disorders and anxiety to really start to change their life and move on to light + love with body and soul. Maria supports all work that will move YOGA and adventure in to rehab-centers and use YOGA and nature as medicine and help in hard situations.

"Marias classes is fun and easy and she don´t use strange words or poses.... I could just join and be happy"